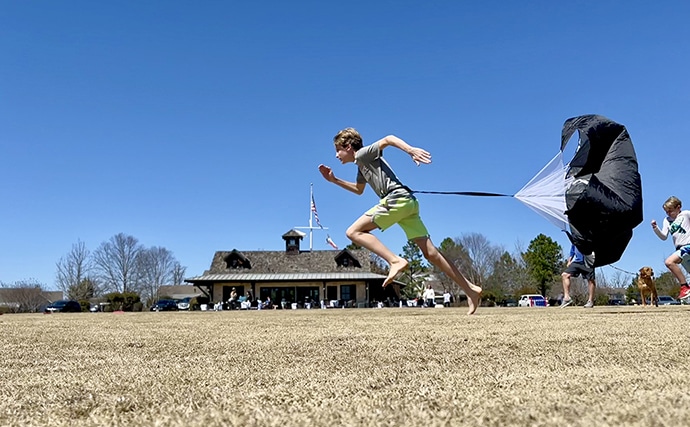 There have never been so many ways to play at Long Cove! The sun is shining, temps are heating up and it's a beautiful time to explore your 1200 acre backyard. We had a blast kicking off the season with you at back-to-back Spring Break events. And our events team is cooking up special activities for our next get-together, Spring Fling on April 16.
We hope you're enjoying time on the hiking trails, having fun on the Play Field, hitting the pickleball courts, or fishing our five ponds. With more brand-new amenities and special events than ever in the works, it's shaping up to be a big year. Long Cove is always growing, and we want to update you on all there is to look forward to.
OFF-THE-HOOK FISHING
The new 5-acre Bluegill Pond in Eastport was just stocked with over 5,000 Bluegill, Fathead minnows, and Redear Sunfish, which will be fun to catch as well as the main forage food for the Largemouth Bass we'll be stocking in June. The pond is also home to the glowing "Spharia" sculpture by Craig and Jan Blackmon, one of many sculptures by Texas artists you'll see popping up along ponds, trails, and other community spaces all year long.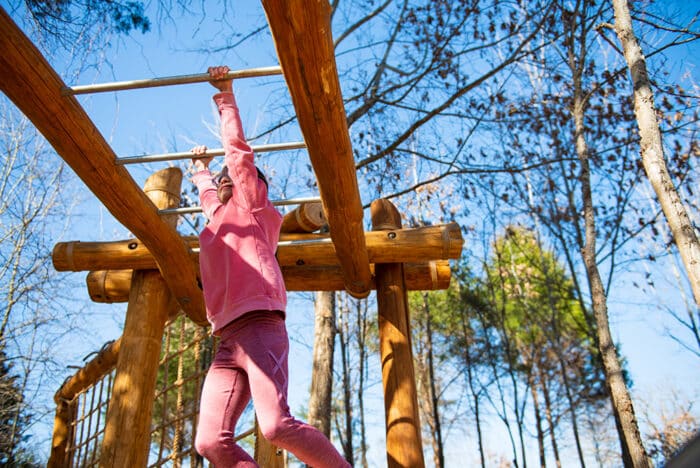 TREETOP ADVENTURES
On the east side of the Bluegill Pond shoreline we'll be opening the new tree-to-tree adventure park later this spring. The park features tree houses way up in the canopy, climbing nets, swings, planks, and an obstacle course. Follow @LongCoveTX on Instagram and Facebook for photos and videos. And email us ideas for what to name the new adventure park at Info@LongCoveTX.com. Get creative and have fun with it. We can't wait to see what you come up with!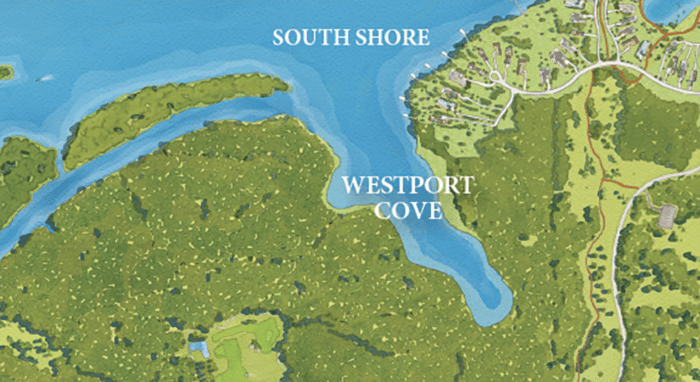 WESTPORT FUN & FILL PARTY
Remember the Mud Olympics at the bottom of Henderson Bay before we filled it? Well, it's time for an encore! You may have noticed the massive floating Aqua Dam across the lake from the North Shore neighborhood. Westport Cove is a new 12-acre cove that will add 3,400 ft of shoreline to Long Cove. Digging will be complete by early May and we're planning a Westport Cove Fill party early summer. We'll pull up some archival footage and post it on social, so you all know what kind of fun's in store. In the meantime, we're in the process of dreaming up new amenities, trails, parks, and ways to play along Westport's shoreline.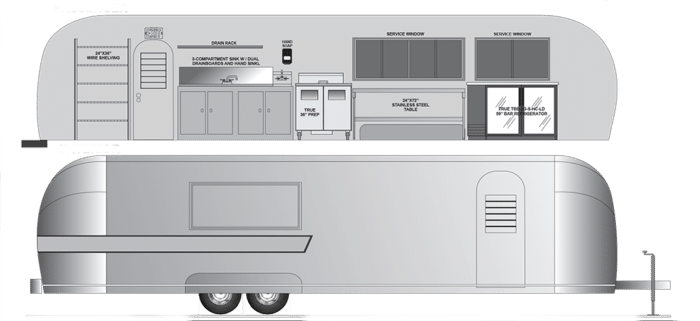 AIRSTREAM FOOD TRAILER
At Long Cove, we like to play hard and eat well. So on the food and entertainment front, we'll be adding a neighborhood Airstream food trailer to serve events all around Long Cove. You can look forward to a varied menu, including creations from your favorite guest chefs. This baby is being refurbished now and we'll keep you updated on its debut.

NEW BIKES!
Another new addition you'll be excited about: We have a brand-new fleet of community bikes for you and your friends to enjoy Easter weekend. You'll find them in the Bike Hut, near the Play Field.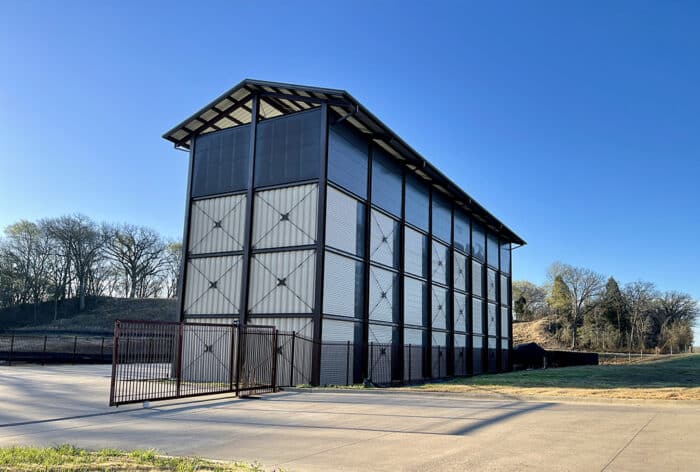 MARINA EXPANSION
We've also got news for those who love to hit the wake. On your way into Long Cove, you've probably seen a new drystack boat storage building at the marina. Well, there's also another pending construction, which will add room for 72 more boats and bring our storage capacity to 144. We're also excited to share that we're adding six new boats — yep, SIX! — to The Boat Club fleet. New boats include the all-new redesigned 2022 Nautique G21 and the nicest pontoon boat we've ever offered, the 2022 Landau Atlantis 23. We're planning an exclusive Boat Club Event on April 15 to unveil these beauties and show off their features.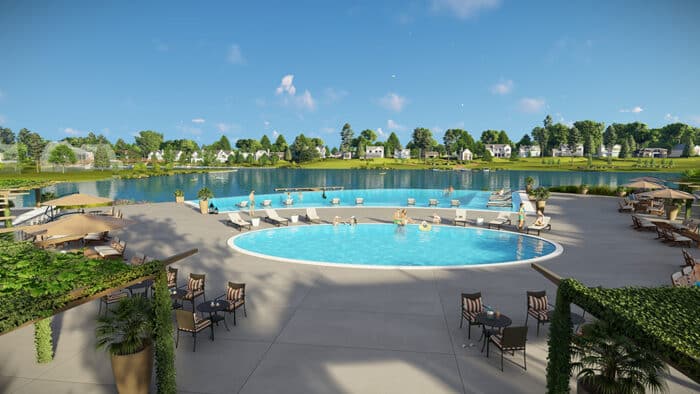 POOL HOPPING
Canon balls and cocktails … does it get any better? Longcovians will have a new resort-style pool to enjoy soon. The Bayside Pool is making progress, but it's behind schedule due to supply of materials and design modifications. Construction teams are working diligently to finish it later this summer and we'll keep you posted on its progress. The new infinity pool will feature cabana-style seating, an outdoor grilling area, and a pool with a water feature just for the kiddos, so please know it will be worth the wait!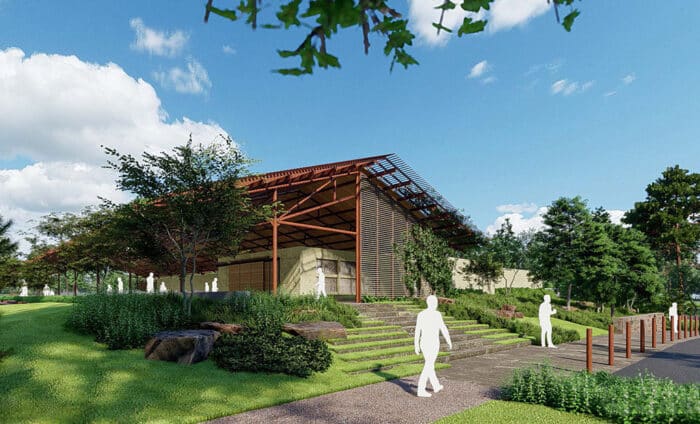 AND INTRODUCING … THE ROOF!
Last but certainly not least, we're excited to announce Long Cove's brand-new activity hub and sports arena, The Roof! The Roof will anchor the Thistle Near Dhu putting green and Long Cove's pickleball, tennis, and basketball courts. Plans include a wiffleball field, indoor fitness studio, covered pavilion with lawn games and activities, restrooms, croquet lawn, fire pits, and comfortable seating with space for live music and concerts no matter the weather. Yoga on the lawn, events under the stars…the possibilities are endless. The Roof will also be available for homeowners to rent for special events like family reunions and weddings. As always, we'll keep you up to speed on timing and building developments.
Get ready for a fun-filled year playing in your 1200 acre backyard!