Vision
Concept to creation.
Long Cove was created by Dallas' Don McNamara, the developer and investor behind Cityplace and West Village in Uptown. Don is also a long-time resident of Cedar Creek Lake and has invested 12 years planning Long Cove. It started with a big idea. To create a luxury lakefront community close to Dallas with all the comforts of home, but without all the maintenance. A place you can unplug, unwind and enjoy your family and friends. Inspired by getaways including Seaside, Watercolor and Horseshoe Bay, we've brought those memorable experiences closer to home. When you visit Long Cove, it's easy to see our vision has come to fruition. And it's only getting better with time.
Today Long Cove spans more than 1,000 acres with six miles of shoreline at the clear, deep end of Cedar Creek Reservoir. Our community is a mix of waterside cottages and custom lakefront homes. We believe in taking it slow when it comes to home building, so only a limited number of lakefront home sites are released each year. But when it comes to developing new ways to have fun on Cedar Creek Lake, we're all in.
In 2017 we completed major development projects at Long Cove, which opened up a 40-acre bay and three new neighborhoods, West Point, Thistle Green, the North Shore and Henderson Bay. If you're looking for a weekend vacation home along the shores of Cedar Creek Lake, these are exciting new lakefront properties to consider.
Community
We can't give you a single reason why weekends feel longer here.
Maybe because it only takes an hour and change to drive here from Dallas on a Friday afternoon. Or because you never have to futz with your boat, the pool, or the yard. And considering all the entertainment options, weekends seem longer here because the fun is already baked in. A full-service marina. Miles of hiking and biking trails. Fishing ponds. Beach volleyball. Tennis. Lakeside bonfire pits. A resort-style pool and waterslide. A Play Field for sports of all kinds. A Toy Barn filled with sports gear and cruiser bikes. An executive golf course and full driving range designed by Tripp Davis. A new putting green — one of the world's largest BTW — designed by David Zinkand. Imaginative events year-round. Concierge services. And neighbors who make easy friends.
There are 52 opportunities a year to make your weekends feel longer. If that sounds like a life upgrade, we invite you to come out and see our community and new lakefront homesites.
Team
A well-conceived luxury lakefront community. The team behind it.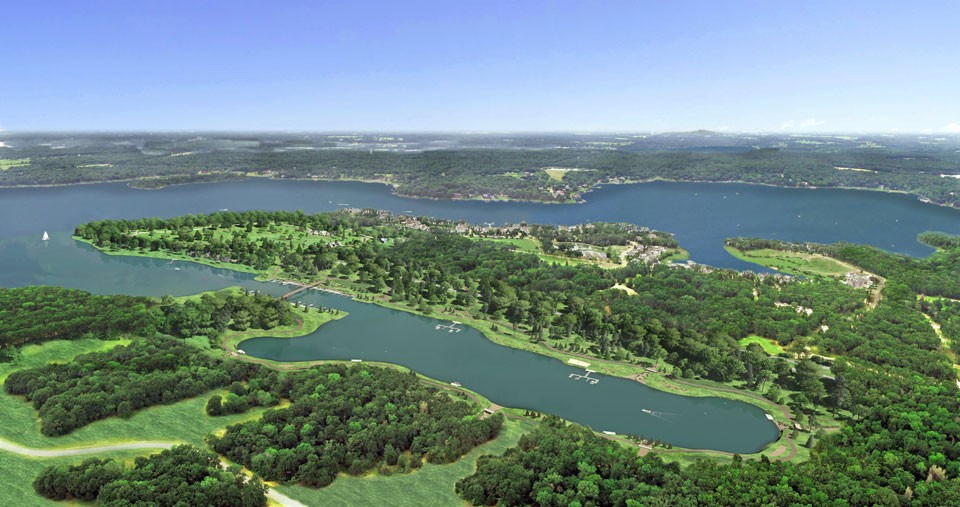 Don McNamara
Founder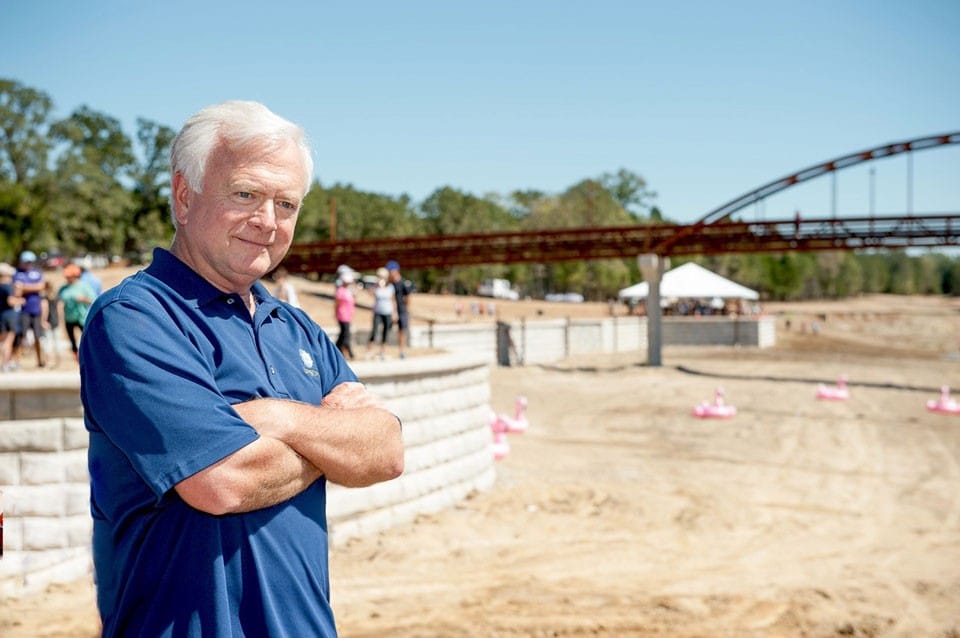 Dallas real estate investor and developer Don McNamara has provided the vision for Long Cove. Having owned a family home on Cedar Creek Lake for over 25 years, Don is passionate about the lake and the nostalgic, multigenerational community it offers. His enthusiasm has fueled decades of planning and perfecting what is now the premier, second home destination for Dallas-area families and beyond.
With more than 30 years of successful investment experience, including four years with Bass Brothers Enterprises and founding his own private equity firm, The Hampstead Group, Don has worked extensively in both the real estate and hospitality sectors. Most notably, Don led the development of 140-acre Cityplace including West Village that revitalized Dallas' Uptown.
As founder, Don embodies the passion for Long Cove, and compels the development team to implement carefully calculated
design and construction of unique family homes, unifying community spaces and amenities that bring the conveniences of resort-style living to Cedar Creek Lake.
John Boyd
Project Architect
John Boyd brings more than 20 years of architecture and interior design experience to Long Cove as the community's in-house project architect. John's specialty is designing family
compounds and residences, and his clients have included some of Dallas' most affluent families. In addition to his Long Cove design leadership, John continues to manage his own firm, John Boyd & Associates, through which he serves not only families, but also hotels, restaurants and commercial offices.
Prior to founding John Boyd & Associates, John served as the in-house architect for Wyndham Hotels and Resorts. Previously, he worked for other notable, high-end interior designers and architects. John's portfolio includes projects ranging from luxury residences in Dallas, Aspen, and Carmel to private compounds and ranches in East Texas.
Levi Wild
Design Engineer
As the design engineer for Long Cove, Levi is instrumental in shaping the coves, defining lots, roads and utilities as well as implementing our ambitious master plan. His responsibilities also include managing the landscape architecture and construction for Long Cove's amenities, most recently for Henderson Bay and Thistle Never Dhu putting green.
Levi's previous professional experiences focused on working within entitlement constraints of complex land development projects. In 2017, Levi founded Wild Land Development Consulting to advance his mission to provide creative engineering solutions and ardent client service for projects like Long Cove. As an East Texas native, Levi appreciates the natural beauty of Long Cove.
Nancy Phillips
Construction Manager/Contract Administrator
Nancy Phillips, PE leads the Long Cove team as the overall development manager for new roads, bridges, grading, storm drainage, and cove development. Prior to this project, Nancy was responsible for complex multimillion dollar construction projects for a variety of discerning clients. Before launching Team Phillips in 2002, she worked for SMU as the project manager for Ford Stadium and the redevelopment of the south limits of the SMU campus. Next she served Hillwood Development as the Sr. Project Manager at American Airlines Center, responsible for the construction of the 70-acre Victory District in the Uptown area of Dallas. Nancy served the AT&T Performing Arts Center as their infrastructure and streetscape manager for the redevelopment of the Dallas Arts District from 2004-2009, to facilitate the construction of the Winspear Opera House and Wyly Theatre. Her attention to artistic detail, combined with a keen understanding of engineering and construction issues, were critical to keeping contractors on schedule and delivering a timely project. Nancy leads Team Phillips' commitment to providing construction solutions that meet the artistic vision of Long Cove. Nancy has a Bachelor of Civil and Environmental Engineering degree from Vanderbilt University and is a graduate of Leadership Texas Class of 2008.
Guymon Phillips
District Engineer
Guymon Phillips, PE is leading the Long Cove team in the planning and construction of all public utility infrastructure: domestic water, sanitary sewer system, electric and telecommunications backbone. He is also responsible for the management of the Lake View Management and Development District No. 1 operations and maintenance program. Guymon serves as the District Engineer, a role similar to his former positions as Director of Utilities and Assistant City Manager in Austin, Texas. He has extensive experience in the planning, design and construction of master-planned public and private projects. His main objective at Long Cove is to ensure that the construction of all the infrastructure is consistent with engineering design guidelines and specifications. Respecting the natural beauty of the lake and the land is also a key component in designing the surface features related to the utility and roadway systems. Guymon's undergraduate college life started at Baylor University where he played football for three years, then finished his college studies at Texas Tech University where he obtained a Bachelor of Science in Industrial Engineering. Guymon also has a Master of Public Affairs from the LBJ School of Public Affairs at the University of Texas, Austin.
#LongCoveTX
Everyday moments are what memories are made of.
Bam Bam the Longhorn greeting you at the gate. Mist rising off Hop Frog Pond. Kids screaming down the waterslide. Magenta sunsets on the porch with a glass of wine and good company. Our everyday moments are somehow extraordinary. Come visit and see.