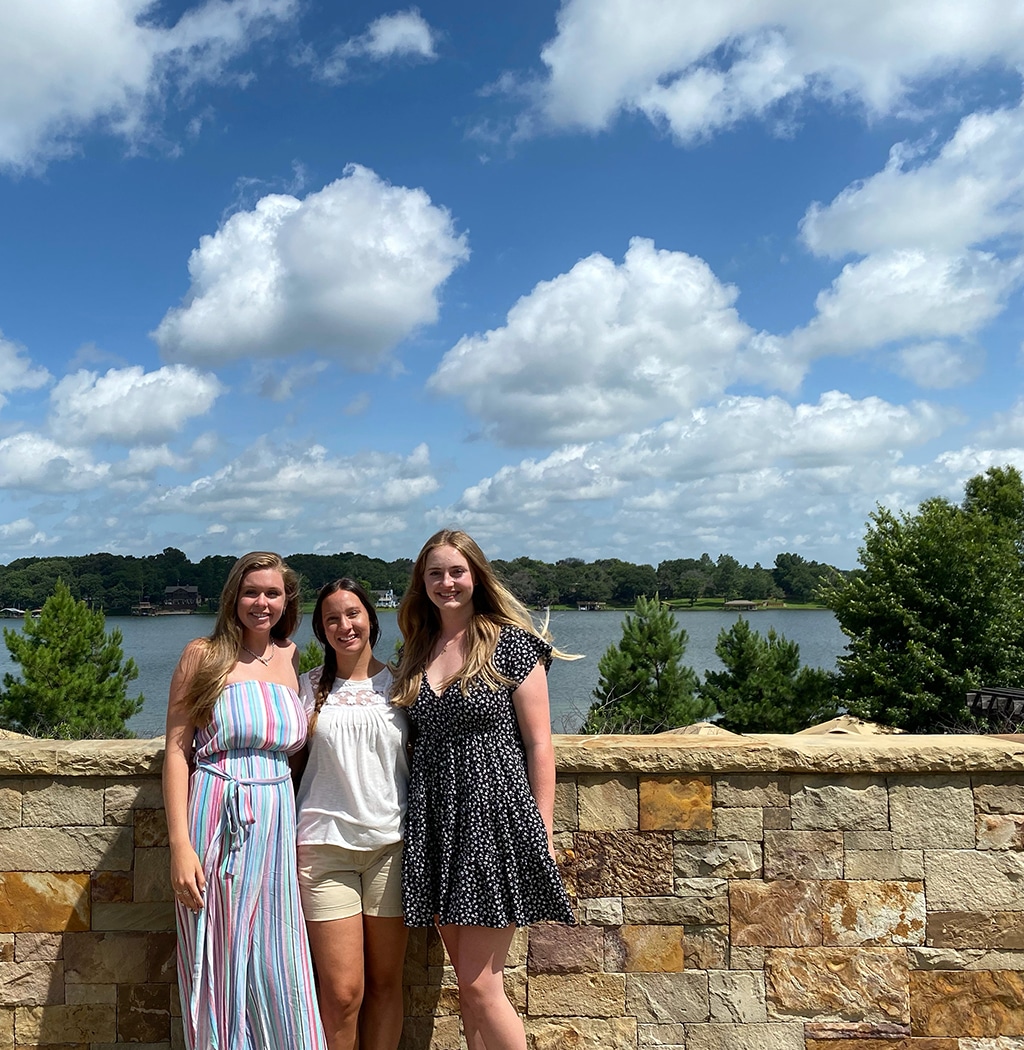 This month, we're shining a spotlight on three of Long Cove's newest additions. Lauren Giles, Peyton Gorr, and Alexa Fezuk started working with us as interns at the start of summer — and we're thrilled to have them on the team. We caught up with the terrific trio to talk about their internship experience, aspirations for the future, and more. Be sure to say hello next time you see them around the lake!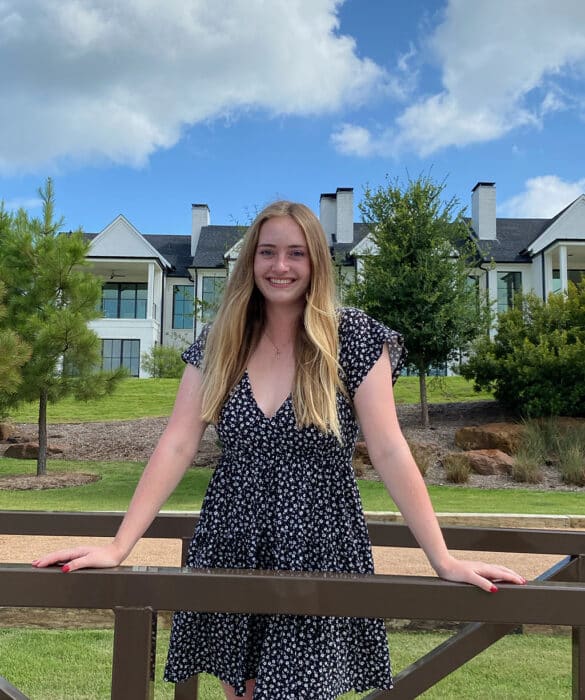 MEET ALEXA
AKA: Fezzie
Age: 21
Hometown: Herndon, Virginia
Currently Attending: Virginia Tech
Dream Job: Venue management
What's surprised you the most about Long Cove? How much it has to offer in terms of amenities. The sheer size of Long Cove, and the hybrid of a club and community, is like nothing I had ever seen before.
What's been your favorite part? Without a doubt, the people. The other employees and owners have made my experience amazing. They've taught me how to adapt to different situations and solve problems. I truly feel like I have family here, which means the world to me because mine is so far away. My fellow interns have become my adopted sisters. No matter how many times people say Lauren Giles and I are related, we sadly are not!
Describe yourself in three words: Adventurous. Organized. Creative!
How would you spend your perfect lake day? On a boat for as long as possible! I recently learned how to wake surf and can't get enough. I'd stay out all day and eventually watch the sunset.
What's something people would be surprised to learn about you? I grew up speaking, reading and writing Japanese. My mom enrolled me in a Japanese immersion program in elementary school, and now I'm working on a Japanese minor at Virginia Tech. I've been to Japan twice and absolutely love the country.
What are your hobbies? I like to read, watch movies and work out. When I want to ease my mind, I take my bow to the range and do some target practice.
What are you most looking forward to this fall? Going to all of the Virginia Tech football games! I'm ready to start jumping to "Enter Sandman." Gokies!
Where do you see yourself in 10 years? Hopefully, somewhere near a lake, so I can wake surf as much as I want!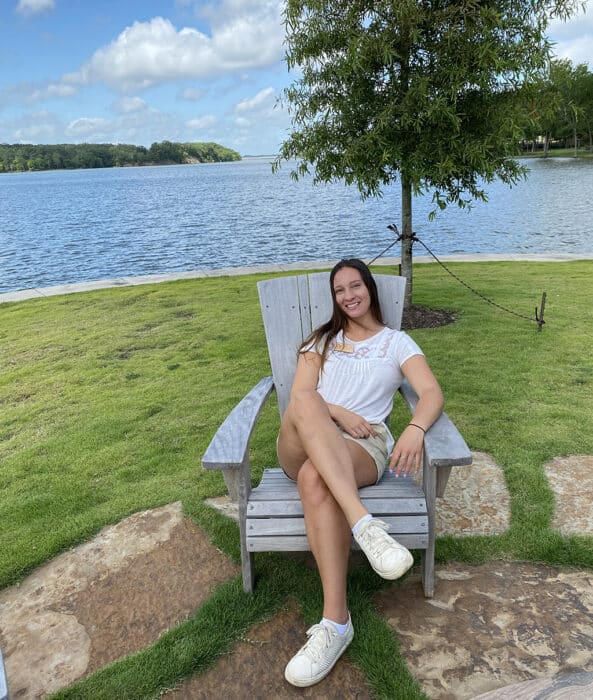 MEET PEYTON
Age: 22
Hometown: Denton, Texas
Currently Attending: University of North Texas
Dream Job: Private events director
Superpower: Being able to adapt to any situation!
What attracted you to this opportunity? The community atmosphere, diverse events and being outdoors.
Where have you worked in the past? Mainly restaurants — and a few years at The Gaylord Texan, and in wedding sales at Ashton Gardens DFW.
What are your primary responsibilities at Long Cove? We plan and facilitate Kids' Club twice a week, organize events, bartend, work at the marina and enhance the overall experience.
What have you enjoyed the most during your time at Long Cove? I love the community aspect and getting to know each family.
How about the Long Cove team? What have they taught you? Working with the Long Cove team has been wonderful. It feels intimate and productive, getting to work with a smaller team.
If you had to choose three words to describe yourself, they would be…: Efficient. Organized. Outgoing.
What would be on your ideal weekend agenda? The perfect weekend would be surfing or tubing on the boat with an ice-cold drink in hand! Once the sun sets, I'd finish the day with s'mores and a night swim.
How else do you like to spend your spare time? Going on hikes, swimming, reading or pampering myself at the nail salon or spa.
What's the best advice you've ever received? Act confident and no one will question you!
Where do you hope to be in 10 years? Settled in my career, with a family and at a lake house of my own!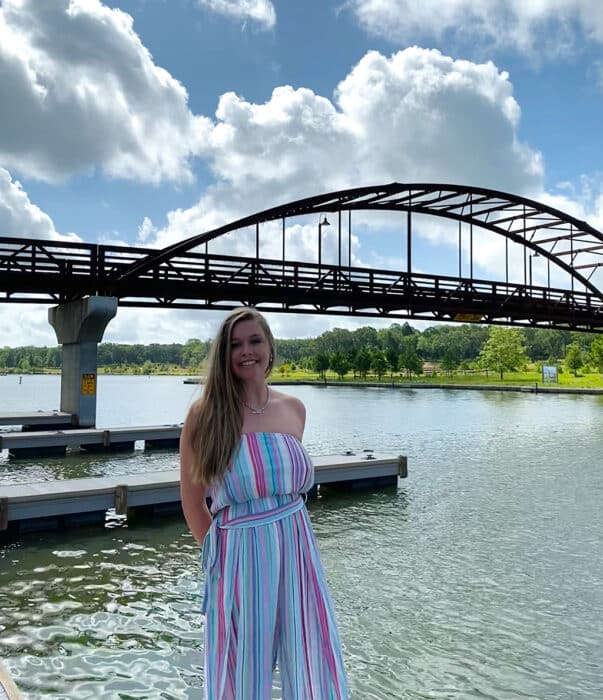 MEET LAUREN
Age: 22
Hometown: High Point, North Carolina
Alma Mater: Virginia Tech
Dream Job: Venue manager at a winery
In Three Words: Enthusiastic. Passionate. Detail-oriented.
What's been the best part of your internship? My supervisors and the wonderful owners. I have truly enjoyed working with every member of the Long Cove team.
Have there been any surprises? After making the drive from North Carolina to Texas, I was surprised by how large the community is! Once I arrived, it was surreal to see that it was real.
What makes you smile throughout the day? I love that I laugh every day at work! Whether it's with the other interns, my supervisors (especially Kristin!), or the kiddos that we take care of during Kid's Club.
What's your superpower? Omniscience.
Do you have any hidden talents? I was certified to be an open water scuba diver when I was in the fourth grade.
Describe your perfect day. A weekend away on the lake at my family's lake house at Smith Mountain Lake in Moneta, Virginia. In the morning, we would wake up to the smell of bacon and coffee. After breakfast, we'd pack up the boat, and once everyone has had a turn to ski, wakeboard or surf, we'd stop for a quick bite or anchor in a cove. Then, we'd return home for burgers and s'mores!
What's the best piece of advice you've ever heard? "Don't cry because it's over, smile because it happened."
Where do you see yourself 10 years from now? I see myself settling down with a family on a farm. I would aspire to become a venue manager, possibly at a winery.