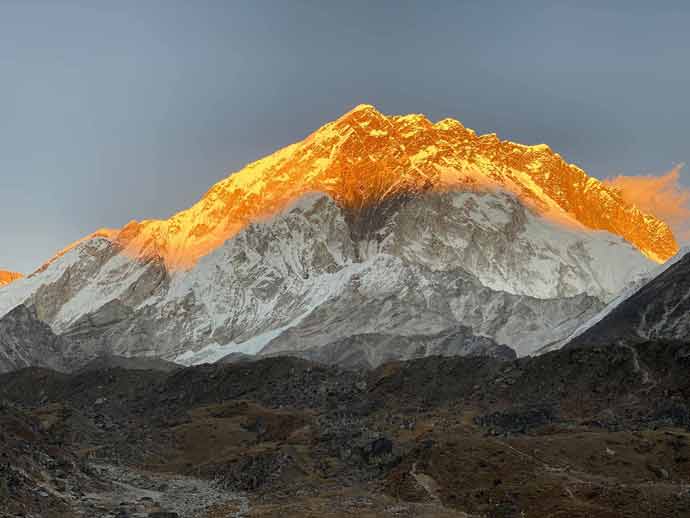 It goes without saying that Longcovians are an impressive bunch. From creatives to philanthropists and CEOs, the Long Cove community is full of interesting personalities with a wide range of talents.
The very definition of #goals, Karen Northcutt is the latest homeowner inspiring us to get out and do something spectacular. She's fresh off an 11-day trek to Everest Base Camp, which Long Cove proudly helped to sponsor. And while she says she still hasn't processed the magnitude of her accomplishment, she's happy to be back at the lake, recuperating and reflecting on the experience.
A longtime hiker, Karen began doing bucket list-worthy treks a few years ago (starting with Kilimanjaro) after discovering Child Legacy International's Clean Water Climb program, which brings clean water to the people of Malawi. She calls it "hiking for a higher purpose"—and she's here to tell us all about it.
Is the Everest trek something that you've always wanted to do?
I wouldn't say it was something I always wanted to do, but I do love hiking and climbing peaks. In 2016, my youngest daughter found these Clean Water Climbs and asked me to join her so we did the Kilimanjaro climb. A couple of years went by, and I decided to try the Everest Base Camp climb.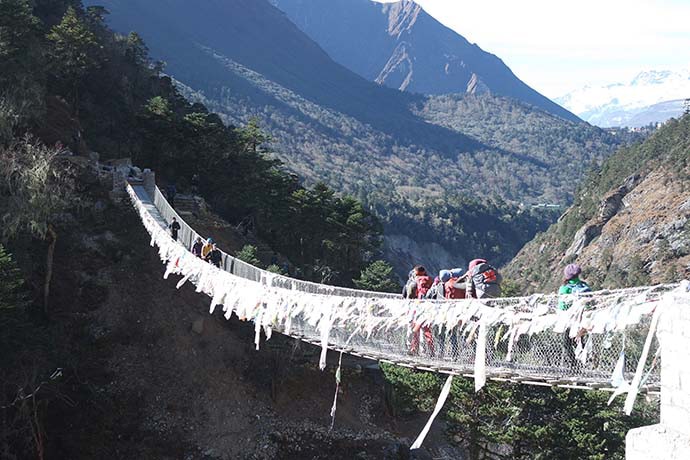 Why do you call it "hiking for a higher purpose?"
We raise money to help those in Malawi fix their water wells so that they can have clean water. After the Kilimanjaro climb, we actually went to Malawi. We got to repair the wells and see the impact it has on the villages.
What surprised you most about the trek to Everest Base Camp?
We thought it was going to be really easy because it's at a lower elevation than the trek we did in Africa, which was almost 20,000 feet. It's 17,600 feet at Everest Base Camp, but you stay at a higher elevation for longer and it takes a toll on you. We trekked 80 miles—40 miles in and 40 miles out. There are no roads. There's no shortcut.
How did you prepare?
I spent a lot of time on the treadmill at a good incline. I did a lot of legwork in the gym. It's a commitment.
What was it like to reach Base Camp?
It's majestic and amazing how small you feel when you're surrounded by those mountains. I made a banner with the name of every single person who gave money, including Long Cove. It wasn't just me there. It was for everybody, plus all the Malawians who are going to get clean water.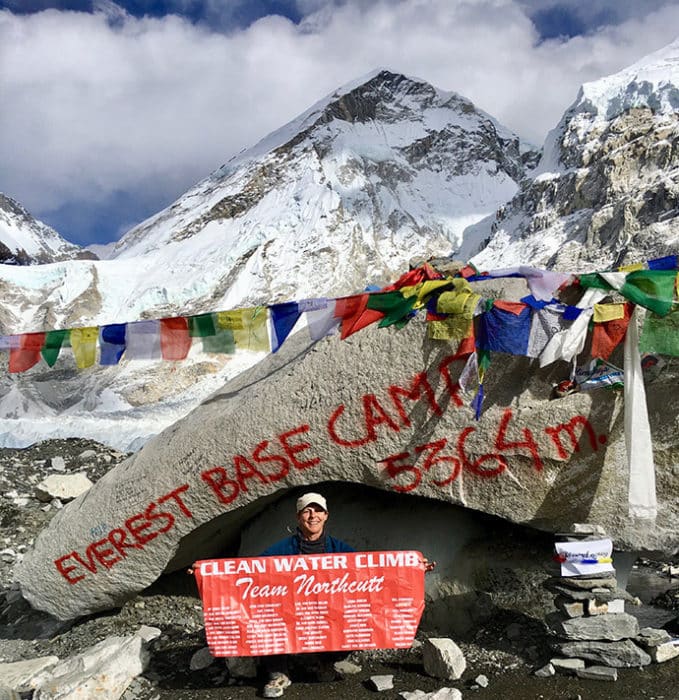 How did you feel to be back at your lake home when it was all over?
Very thankful to be done. I was very thankful for my Thanksgiving this year. I had my family here and we had a beautiful day. Long Cove is such a great place to recharge and I'm really glad Long Cove got to be a part of this experience.
Tell us about your history with Long Cove.
We bought a cottage in 2014 and found that it was a good fit for our family, so we ended up building a custom home on West Point. We just moved in April of this past year. We have plenty of room and love it. We to get to the lake two weekends a month—maybe more.
What did Long Cove's support as a sponsor mean to you?
It's a perfect match in my books. I thought, 'I live in a community that's on the water. How awesome would it for Long Cove to help give back to help those across the globe?' With the support of Long Cove and family and friends, I raised enough money to repair five water wells—each well impacts thousands of villagers. Their support meant a lot to me. It excites me to be able to reach out to the Long Cove community, which is filled with people who have big compassionate hearts and give a lot in their communities.
After hiking for a higher purpose, what's next?
I'm not recovered enough to think about it yet, but I will be soon. The mountains keep calling me.