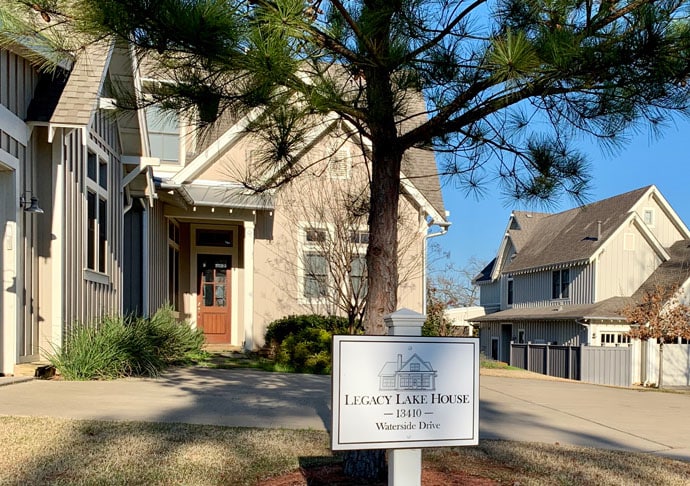 Longcovians are a special bunch and we love nothing more than getting to know families in the community. We caught up with a few Long Cove families to chat about life on (and off) the lake, how they named and designed their lake home, and more. Enjoy getting to know your neighbors and be sure to say hello next time you see them out and about.
MEET THE MANKIN FAMILY
Residents of Legacy Lake House
Dwight and Sharon Mankin have been rooted in Coppell, where they raised their children —Blake, Emily, and Austin—for 25 years. Now that their kids are all grown up with families of their own, the Mankins are loving life as grandparents to four (with one more on the way)!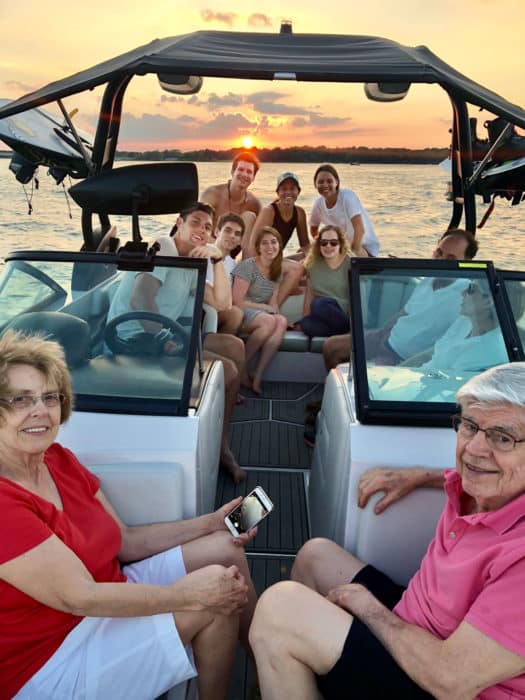 What brought you to Long Cove?
Owning a lake house had been a lifelong dream for us, but we always hesitated because we didn't want our lake house to "own" us. We had visions of being stuck behind a lawnmower, doing projects all weekend. We read about "stress-free lake living" at Long Cove in D Magazine and drove out that same day. It's been five years and we haven't looked back since!
What inspired the design or your lake home?
It was designed for comfort and practicality—cozy and accessible was the goal. We knew we wanted to share our home with others, so we created it to sustain lots of coming and going. To accommodate my father, who has multiple sclerosis, and others with special needs, we made sure the ground floor is free of steps and one of the bathrooms is handicap accessible. We want everyone to have access to the beauty of God's creation at Long Cove.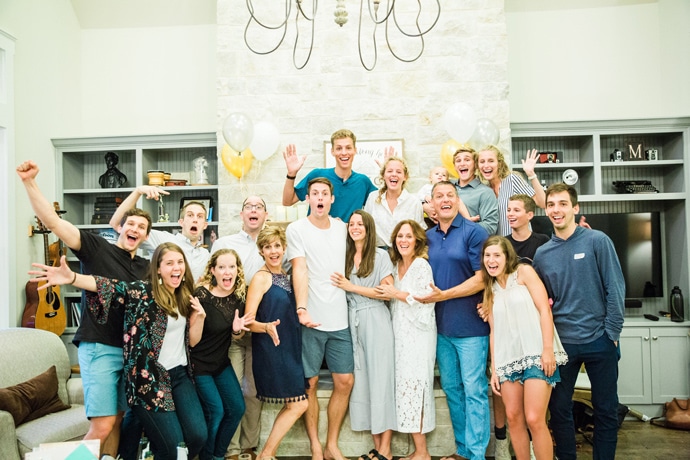 Tell us the story behind the name "Legacy Lake House."
Our youngest son, Austin, gets credit for inspiring us to purchase our lake house. When we entered the empty nest, Austin cast a vision for a place where generations could gather. Our vision was also for a place we could share with others as a ministry, so they can find rest and refreshment for their souls.
Do you have a favorite Long Cove memory?
We've announced the coming births of four grandchildren, held gender reveals, birthday parties, bachelor parties, and more. Our son was engaged at Long Cove and ultimately had the most epic and meaningful wedding on the lawn by the lake. We're watching our legacy grow at Long Cove!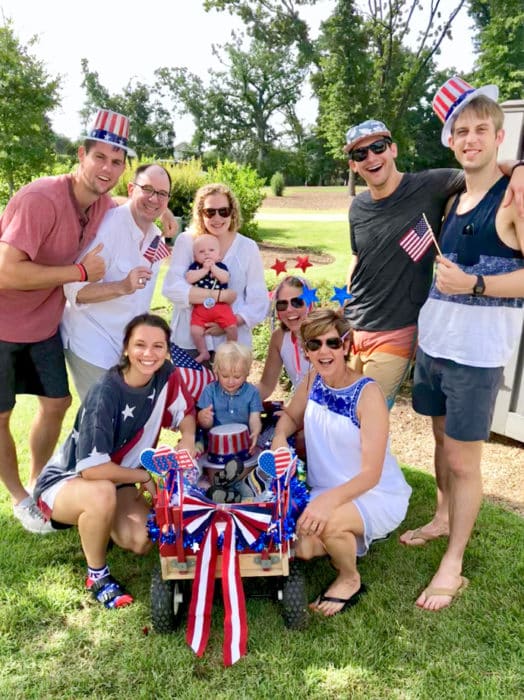 What do you have on deck for the coming year?
Fourth of July is the best! For the past five years, we've gathered for fireworks—there's no better fireworks show in the world—and held a family reunion. The golf cart parade, games, shaved ice, sticky s'mores, and "neighboring" make it our favorite event of the year.
MEET THE MCNAMARA FAMILY
Residents of Dock Holiday
When they aren't at their home in Waco, Michael and Claire McNamara like to take it easy on the lake with their son Michael T., 14, their daughter Madeline, 10, and their two Yorkies, Rocky and Riley. This will be their first summer at Long Cove and they're looking forward to long, leisurely days ahead.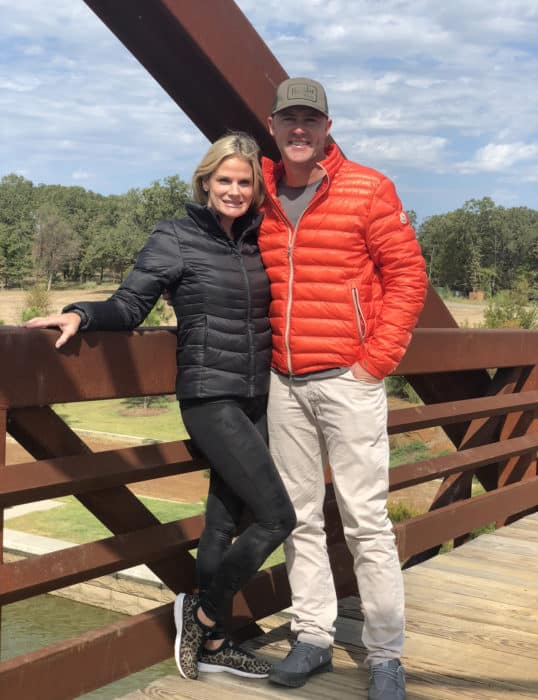 Why did you choose to build at Long Cove?
We were on a boat with family members, who have a house on Cedar Creek, and drove into the Long Cove area. We were amazed at the incredible amenities. We'd been planning to buy a home in Colorado but quickly realized Long Cove was a better fit. We've met so many wonderful families and look forward to getting to know many more. It's an incredible community.
What inspired the design of your lake home?
It's a contemporary style home. We've always enjoyed architecture, so it was fun to work on the design with John Boyd & Associates. We wanted an open concept with a lot of natural light. The house is designed with great views of the lake year-round, but it's also designed to be an open-air house with large spans of glass that can be opened when the weather is nice.
What's the story behind the name "Dock Holiday?"
Michael's family is from a long line of law enforcement, so the movie "Tombstone," featuring Doc Holliday and Wyatt Earp and his brothers as lawmen, has always been a family favorite. In the movie, Doc Holliday could be characterized as the epitome of fun! During the construction process, we decided it was a great fit.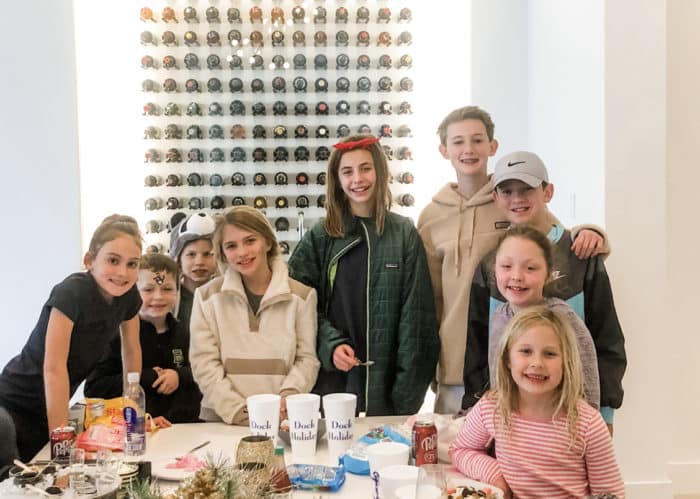 What has been your favorite Long Cove memory so far?
We have so many great memories already—and we just recently completed our house. The spring and summer holidays are amazing. Fourth of July fireworks are incredible. We spent two weeks at Long Cove over the holidays and loved having family and friends down to relax and spend time together.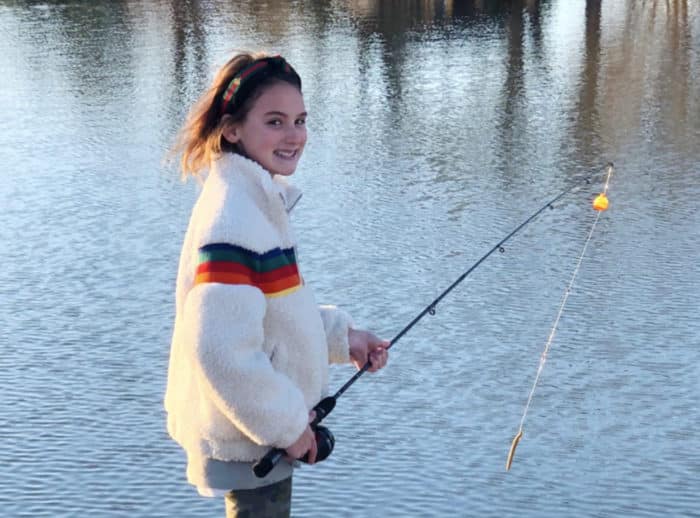 What are you looking forward to in the year ahead?
This will be our first summer at Long Cove, so we look forward to long, relaxing summer days and the summer holidays.
MEET THE CROCE FAMILY
Residents of Sunset Crossing
Joe and Kim Croce hail from Westlake, where they live with their two dogs: Brooklyn, a golden mountain doodle, and Bella, a morkie. Now that their daughter Blair is in grad school at New York University and their son Cole is attending Baylor, they're exploring their "new normal" as empty nesters. They stay busy spending time with family and friends, traveling, mentoring others, and of course, kicking back in their home away from at Long Cove.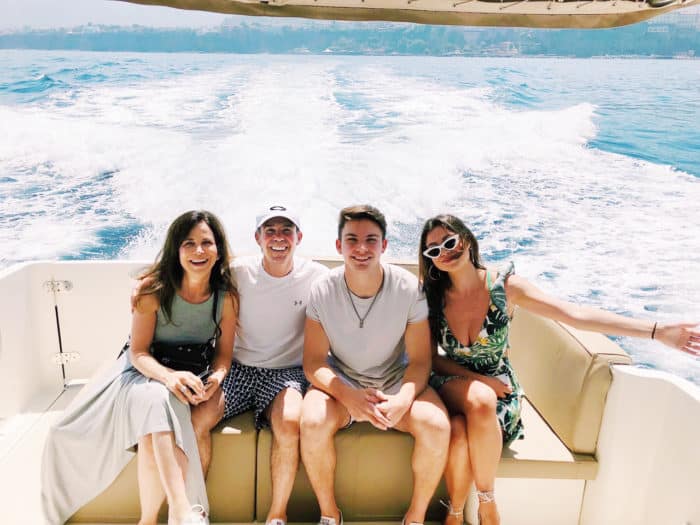 How did you discover Long Cove?
We were entertaining the idea of buying a lake home and happened across the Long Cove website. When we drove out to view the property, it was love at first sight!
What do you love most about the design of your lake home?
We purchased one of the cottage homes on Dodd's Landing in August of 2019. We've loved every minute spent at Long Cove. It's a wonderful respite from everyday life and the best place to be refreshed.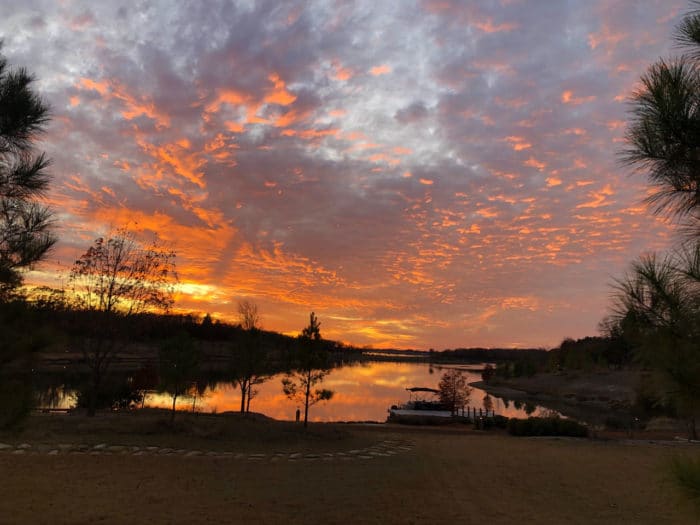 What led you to name your home "Sunset Crossing?"
We chose "Sunset Crossing" for a couple of reasons. Our last name means cross in Italian and we wanted to honor God for the immense blessing of our lake home. Secondly, we all love sunsets and have seen some of the most stunning sunsets around the lake!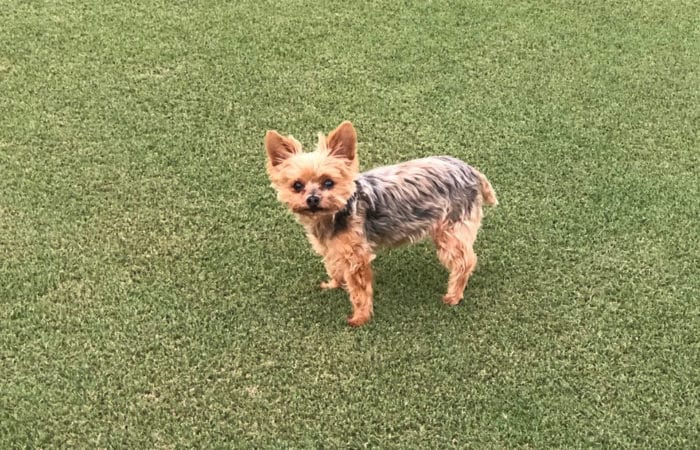 What have been your favorite Long Cove memories so far?
Spending quality time together at the lake has brought our family immeasurable joy and laughter, as well as entertaining friends and friends of our son and daughter. We love all the outdoor activities and spend most of our time outside exploring, playing sports, and taking the dogs for golf cart rides. We're looking forward to experiencing all that Long Cove offers, as each season brings new adventures. Surprisingly, the quiet of fall and winter has been our favorite so far.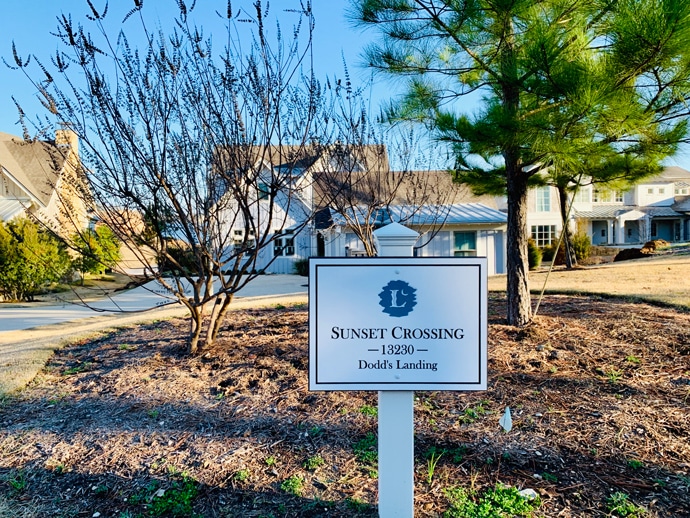 Any upcoming events you're looking forward to spending at Long Cove?
We're excited to see the highly acclaimed Fourth of July celebration and fireworks!