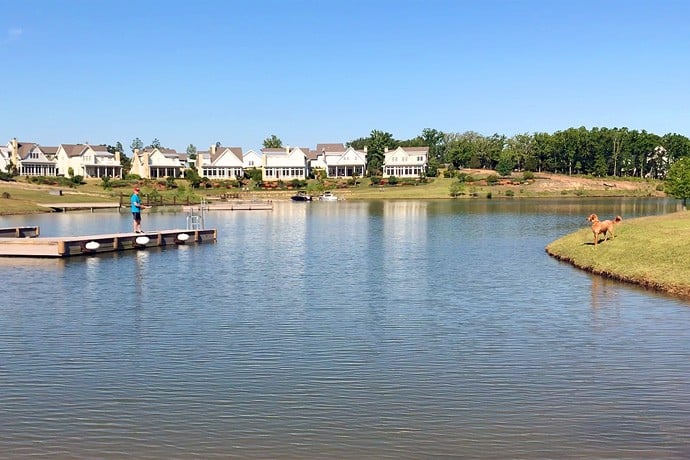 Have you ever walked past your neighbor's lake house and wondered how it got its name? At Long Cove, one of the joys of joining the community is choosing a unique name for your new home. It's a Long Cove tradition—and from family nicknames to places of significance, each is as unique as the family behind it.
In the spirit of the holidays, we play Q&A with three Long Cove families. From the story behind the names of their lake houses to their favorite way to spend time in Long Cove, they tell all.

MEET THE ZEBALLOS FAMILY
Residents of Alegria in Dodd's Point
Though Laura and Pablo Zeballos are from Austin and Peru, respectively, they've called Dallas home for 15 years. They heard about Long Cove when it first opened and say it was a "no brainer" to decide to purchase. When they're not in Big D, where they both work in medicine, Laura and Pablo can be found enjoying lake life with their two kids—Elena, 13, and Patrick, 11—and Greyhounds, Giorgio and Gigi.
Why did you decide to buy at Long Cove?
We loved the proximity to Dallas and all the special amenities included with the community. Not having to worry about upkeep because of the boat valet, housekeeping services, etc. was a huge selling point. The sense of community between neighbors and families has made our experience even more enjoyable.
What is the meaning behind your lake home's name?
Alegria is Spanish for "happiness," which was the goal of the lake house. We wanted a place we could go to decompress and enjoy being together.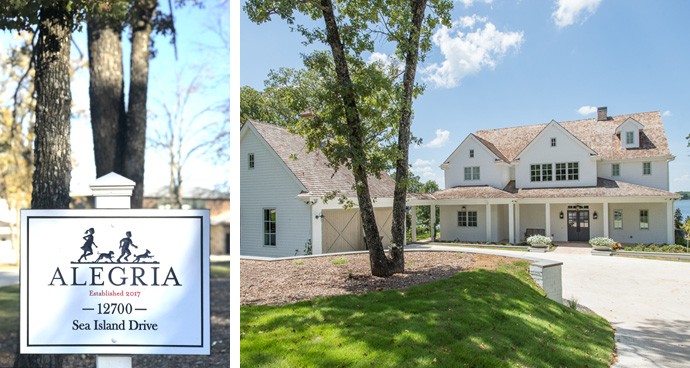 What inspired the aesthetic of Alegria?
It's a Cape Cod inspired two-story home with an American feel—classic, timeless, and decorated with fun colors and fabrics. Laura has kept a "lake house file" with ideas and designs since we were first married. She wanted it to have enough beds to hold our large family.
What do you love most about being Longcovians?
We've truly enjoyed having our extended family visit over the summer and seeing the kids and their cousins build memories. We enjoy being at Long Cove with family over the holidays, especially with the special events Long Cove holds for all of us. From Easter to New Year's to Fourth of July, the staff creates exceptional experiences. Our children even talk about having their children come to the lake house someday.
---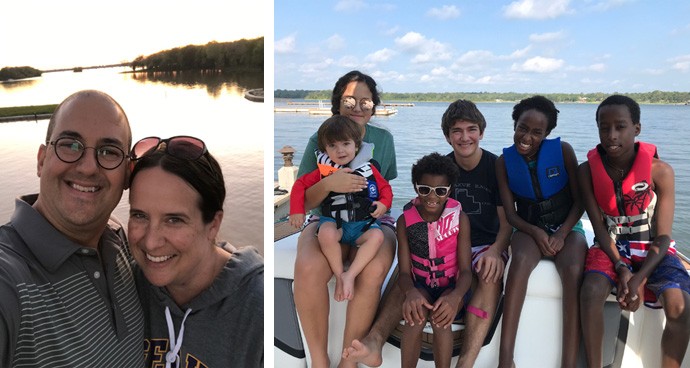 MEET THE NEIGHBORS: THE FOURNETS
Residents of Shiloh in Founder's Row
NOLA natives Beau and Natalie Fournet met in high school and got married a week after graduating from LSU. Since saying "I do," they've grown their brood to include six kids, including three biological and three adopted: Caleb, 16, Hannah, 15, Beck, 11, Deshi, 11, Michelle, 8, and Isaiah, 2. And because their hands aren't full enough, they also have a dog named Woosha.
What attracted you to Long Cove?
We were looking for a home outside of the city and had a number of things in mind: water sports, surrounding land to feel far away from the big city, and minimum upkeep. The combination of concierge services, Cedar Creek, and the trails were just what we were looking for.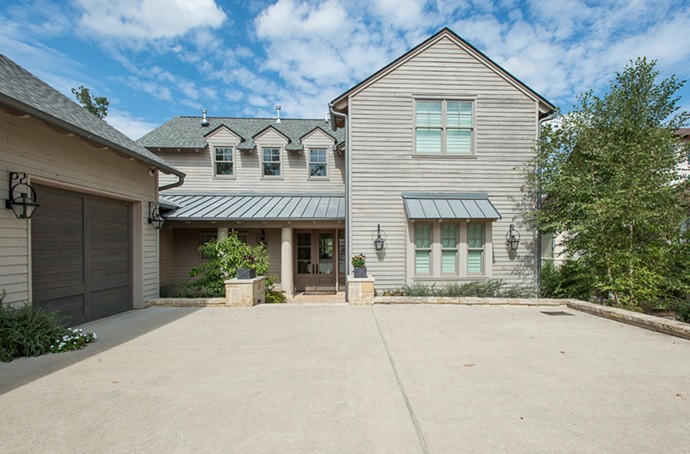 How do you describe the design of your lake house?
Many architects would say it's an "A. Hays Town" inspired home, which means it looks like a home designed by this well-known south Louisiana architect. We were largely inspired by things we both liked growing up in Louisiana.
Why did you name it Shiloh?
To appreciate our home name you need to know more about our family. In the midst of the joy of having Caleb and Hannah enter our lives, we also experienced several miscarriages. We received comfort from many friends at church involved with a ministry called Shiloh. The name Shiloh is biblical and means a "place of rest." We named our home Shiloh because we hope it will be a place of rest for our family and anyone who visits.
Is there an upcoming events or celebration you're looking forward to spending at Long Cove?
We've spent the last several Thanksgivings at the lake. We love the cooler weather and chance to enjoy the outdoors during the fall. We also get a few days over New Year's each year and invite friends from our church. It's always a fun time.
---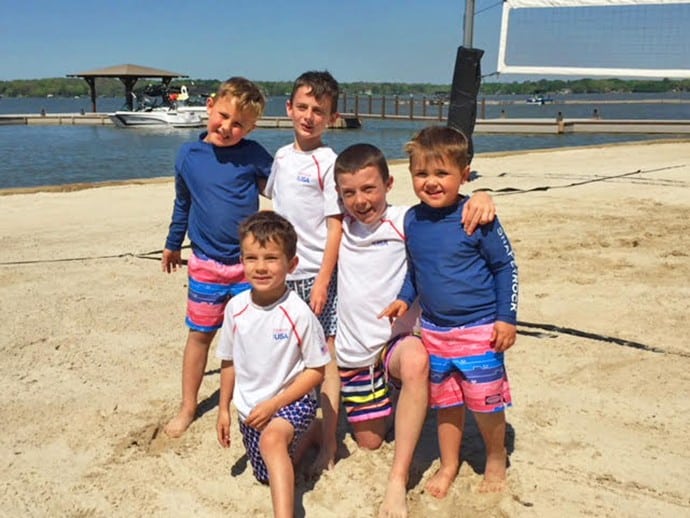 MEET THE NEIGHBORS: THE MERRIMANS
Residents of 5 X The Fun in Dodd's Landing
Jerry and Deby Merriman wanted a place where they could enjoy long weekends, holidays, and celebrations with their kids and grandkids. When they discovered Long Cove, they knew they'd found just the place. They've been having 5 X The Fun ever since.
What does your lake crew usually look like?
We have two children, Craig and Paige, who are married to Sarah and Ryan. And we have five grandsons, ranging in age from 4 to 12: Grant, Nolan, Reid, Clark, and Blake. We also have an 80-pound Goldendoodle named Elaine and a 35-pound Labradoodle named Baker.
What made you decide to become Longcovians?
Our family decided we would all use a lake house, but we wanted a secure location, where we would not have to spend our time working on the yard and doing maintenance. We also wanted a place that would hold its value over time. Our son researched locations; we called, visited, and closed on the property within 30 days.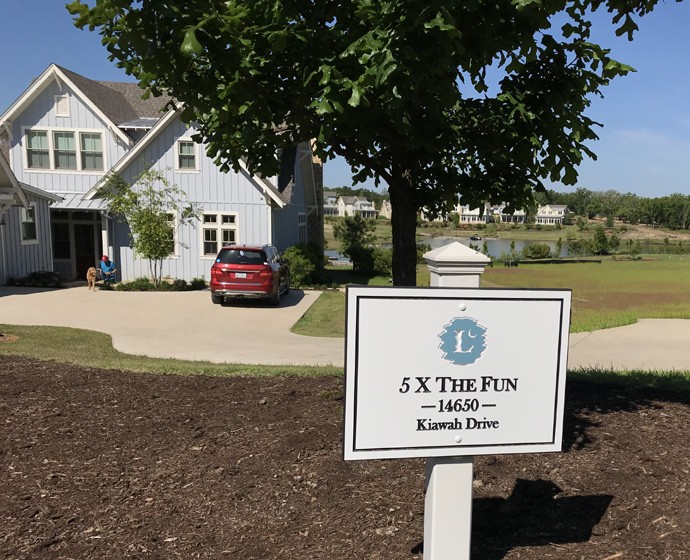 Tell us about the first time you saw your lake house.
The house had just been completed, and our entire family loved it. We made a few changes to the plan, and now we consider it a perfect lake house.
How did you come up with the name 5 X The Fun?
It's named after our five beautiful and fantastic grandsons. What better way to describe them than 5 X The Fun?
Do you have a favorite family memory at the lake?
Our Thanksgivings and Christmases at Long Cove are memory-filled, and so are average weekends hanging out with the family and grandkids, enjoying our boat and all of the Long Cove activities. We really consider any weekend we're here a special one, and we always look forward to any trip to the lakehouse.