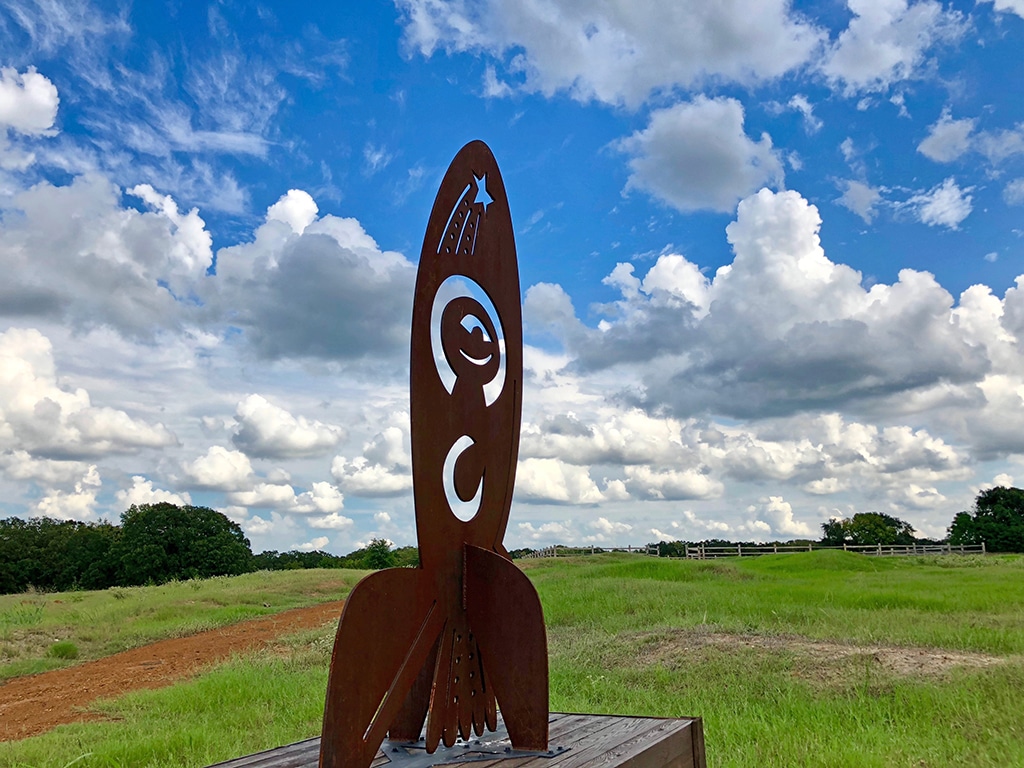 More to see in your 1200 acre backyard! You may have noticed new works of art popping up around the community. We like to call it art alfresco. Each piece is by a different local artist. And if you're enjoying these installations, you're in for a treat. Because over the next 12 months, we're releasing eight more, all by local artists. We can't wait to unveil these new additions. Until then, here's the 411 on works currently in your 1200-acre backyard. Take the fam out for an art scavenger hunt and use this as your guide!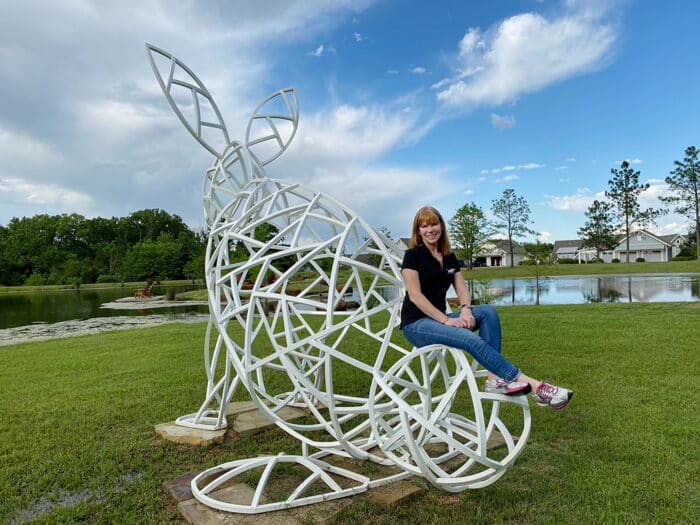 Field Rabbit by Brad Oldham
Nearly 20 years before creating this Field Rabbit, Dallas artist Brad Oldham was picking up sticks, ruminating about what he might create next. A rabbit bounced through the field and became the inspiration. Back in the studio, Brad assembled those sticks into a sculpture
and created a limited series of Field Rabbits. Ours is the tallest and the first in white.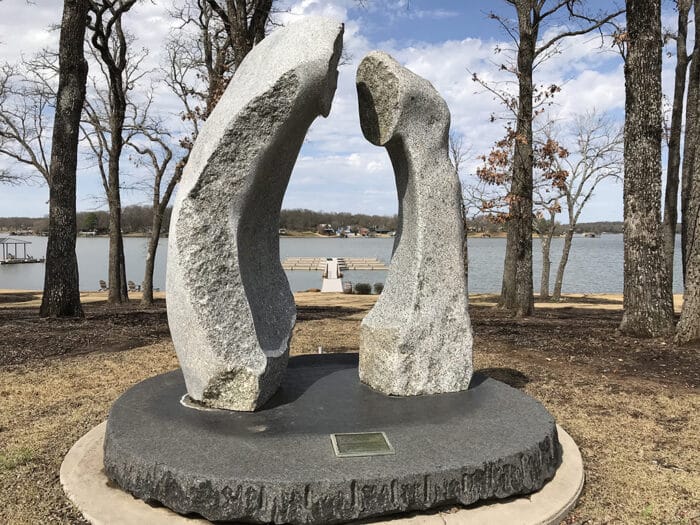 Soul Mates by Dick Alden
Dick Alden has been carving wood and stone for 25 years. He discovered an interest while taking a woodworking class. One day, he picked up a hammer and chisel and carved a bird bath. One of his largest pieces, Soul Mates stands nearly 6-feet tall and weighs almost three tons. The curved stones represent a man and woman.
Sphaira by Craig Blackmon
Sphaira celebrates the geometry of the sphere and symbolizes its transformation into human joy. Craig and Jan Blackmon, Texas artists and architects, formed this orb with found metal pipes, sliced into rings, and welded internally. At night, Sphaira sends shafts of light in a spectrum of colors from Earth to sky.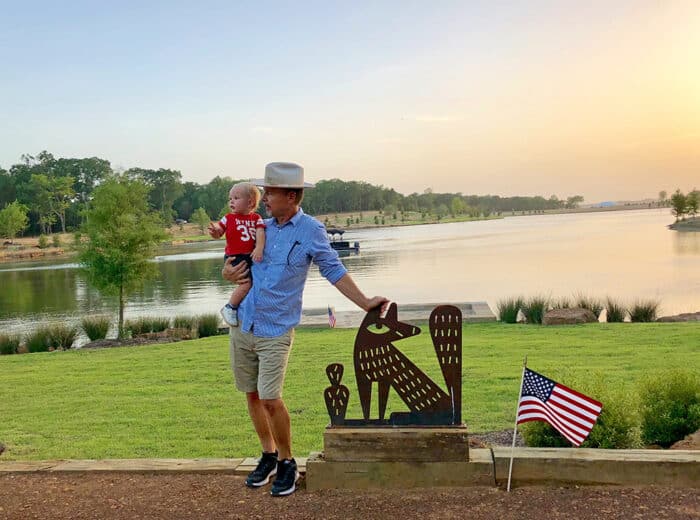 Dock Animals by Jon Flaming
Designed by Dallas artist Jon Flaming, our 10-foot-tall corten steel sculpture points the way to Cape Canaveral, which serves as Long Cove's home for fireworks, the corral, and helipad. You'll also see Jon's creations along the shores of Henderson Bay. Seven corten steel animals lend some Texas character to each of our docks.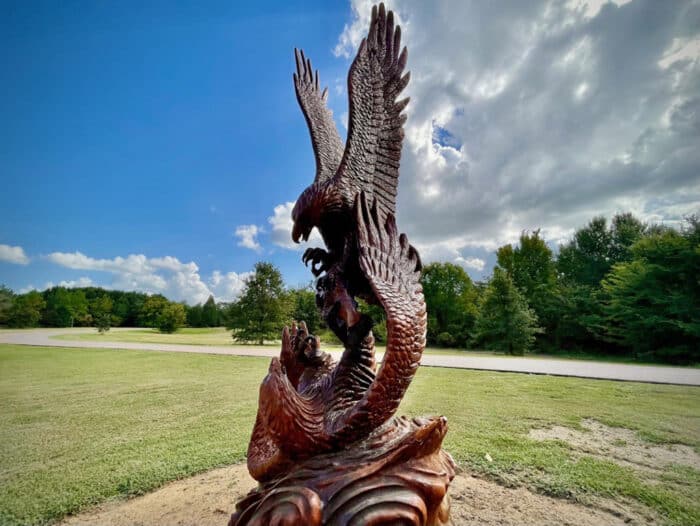 Double Eagle by Lance Rigby
Carved by chainsaw from a tree stump, Lance Rigby created a stunning image of two American bald eagles fighting over a fish. Lance's love of nature is his inspiration, and his repertoire includes everything from dolphins to bears.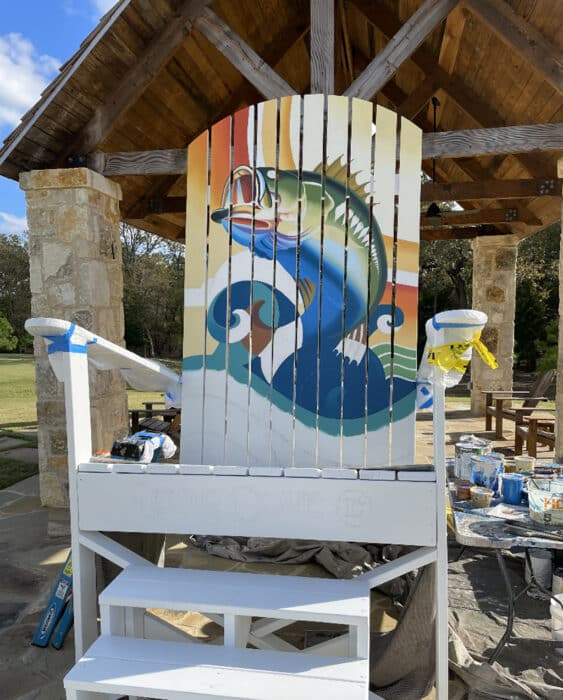 Whopper by Eyecon Studio
This gigantic (and Insta-perfect) Adirondack chair was built by the Long Cove Operations team and painted by Chris Arnold and his Eyecon Studios team. Based in Dallas, Eyecon has produced award-winning works of art throughout the United States, including custom works for major corporations and public art murals. Pictured here is the work in progress.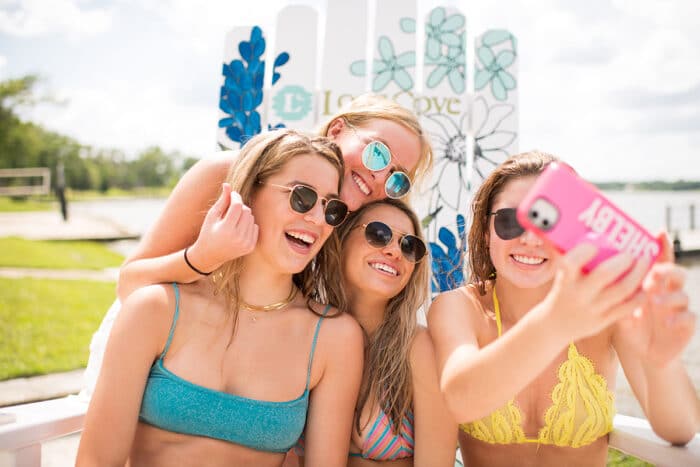 Flower Chair by Alli K
Our other photo-worthy Adirondack chair was painted by Dallas artist Alli K. You'll usually find it on the beach in front of Founders Row.
Stay tuned for more art to be unveiled in the coming months.