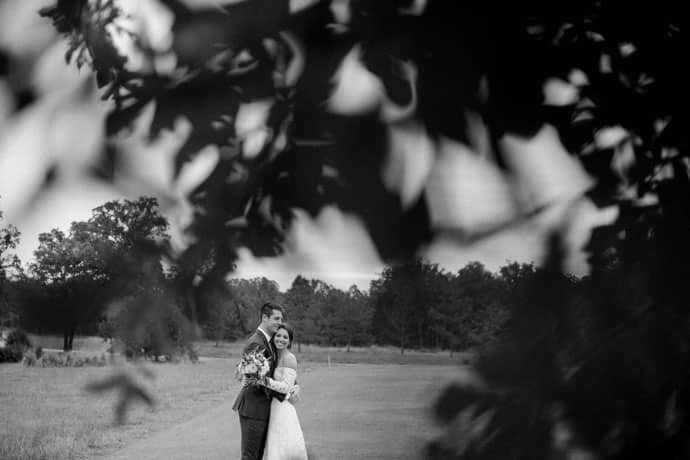 Memories are made at Long Cove—and that's no cliché. Longcovians love to celebrate birthdays, holidays, and milestones in between at the lake. And we live for every minute, striving to do our part to make each celebration as special as possible.
When early Longcovians Sharon and Dwight Mankin bought their cottage in 2014, they envisioned a second home that would serve as the backdrop to family memories for generations to come.
The realization of their dream, Legacy Lake House is the de facto gathering place for Mankin family and friends. It's where grandchildren take their first steps, baby genders are revealed, birthdays are fêted with family and friends, and in the case of Sharon and Dwight's son, Austin, where love stories unfold.
"When we purchased this home, we thought it would provide an opportunity for generations to come to make memories," says Sharon. "If the Mankins are celebrating, it's probably at Long Cove!"
Last fall, the Mankins made Long Cove history by co-hosting the community's first-ever wedding. Surrounded by their nearest and dearest, Austin and Kirby Mankin tied the knot on November 11th near the family lake house that means so much to them both. Read on for a Long Cove love story.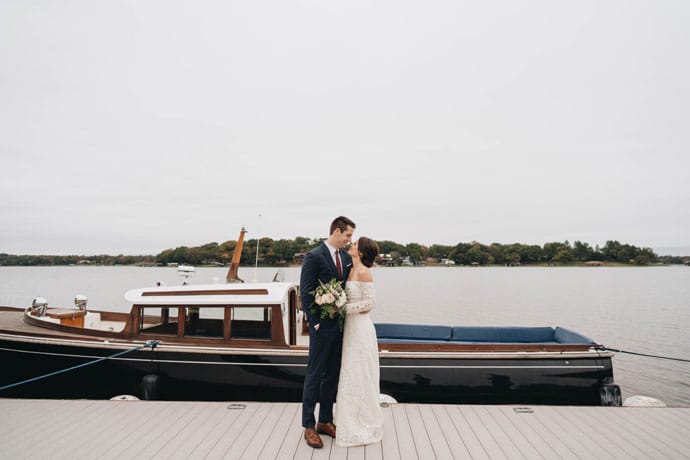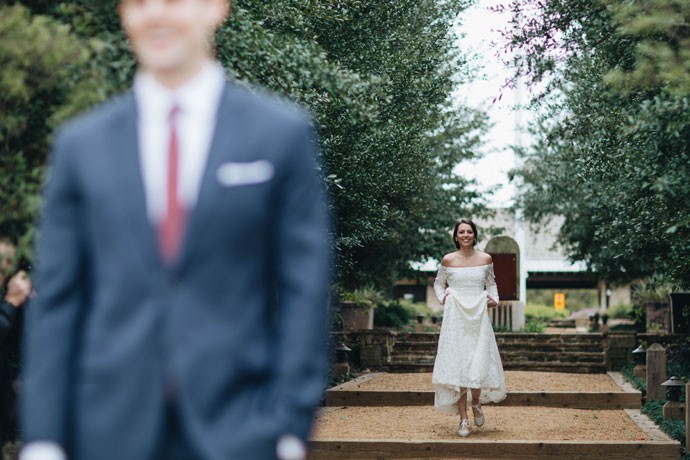 "It's a special place to me," says Austin. "I knew that's where I wanted to host this occasion."
Austin and Kirby met through Watermark Community Church in Dallas, where they both work, and began dating in early 2018. Ultimately, Austin asked Kirby to make it Facebook official on the Long Cove shoreline and returned to the scene for a very special proposal last August.
With help from family and friends, he orchestrated the surprise of Kirby's life, greeting her at the dock with flowers and a ring in hand, as she pulled up after a boat ride with her family.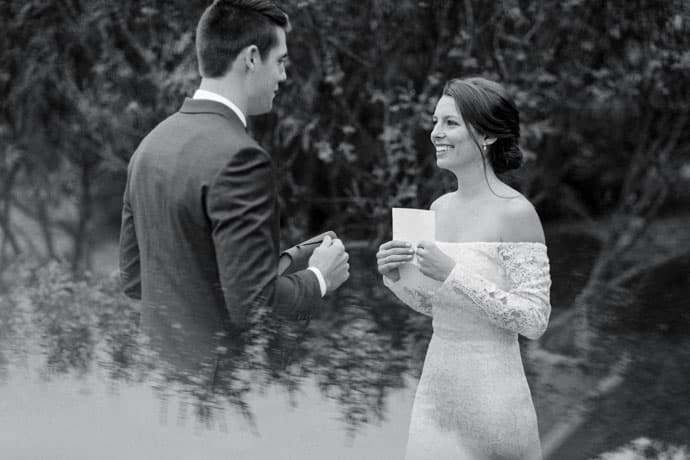 She said yes – but of course – and the bride- and groom-to-be got down to the business of wedding planning. First things first: deciding on a location.
"Long Cove started out as an idea," says Kirby. "Then, somewhere along the way, it became the plan. We thought, 'This is the best idea ever! Why would we do anything else?'"
"Because of our Long Cove love story, hosting the wedding here was a no brainer," Austin concurs. "Long Cove was the place that our relationship really took off, so I knew it would be really fun. We wanted it to be a weekend everyone could enjoy—and it was. It ended up being awesome."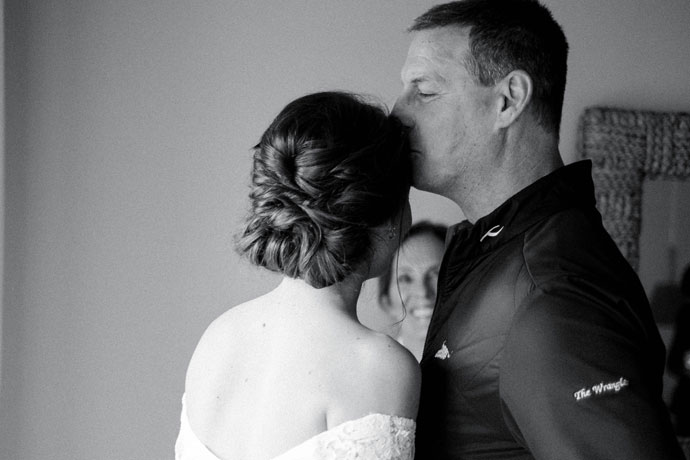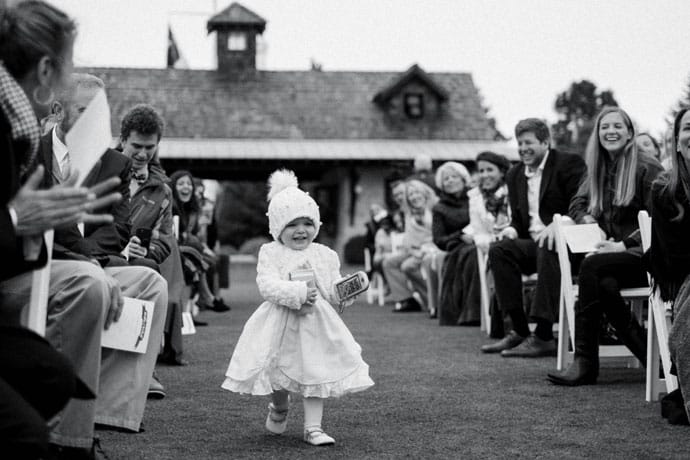 So awesome, guests are still raving about the event. Encouraged to "Come ready to embrace the elements" yes – this was November, after all – friends and family of the bride and groom made their way to the lake for the big day.
From day one, the Long Cove team worked closely with the couple's families to bring the wedding vision to life. And on the day of the wedding, when the skies opened and rain began to pour down, they kicked it into high gear, working tirelessly to ensure that everything went off without a hitch.
"We were blown away by the staff," says Sharon. "Their willingness and enthusiasm was astounding. From helping transport people to laying down hay under the tent, it was a team effort. I probably don't even know all the things that went on. The staff was critical to making the family dream come true."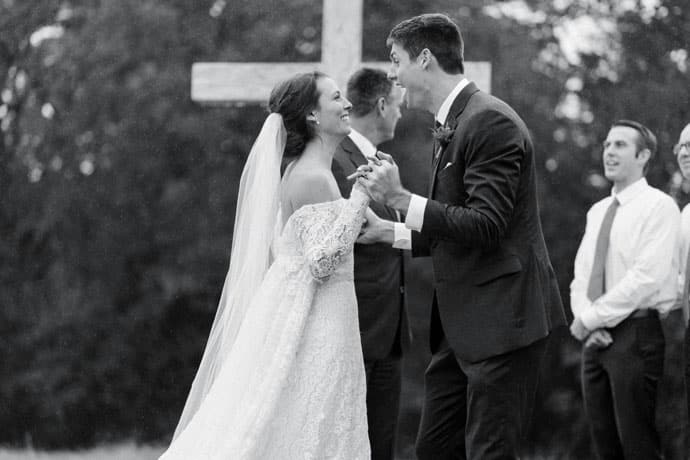 In fact, the entire Long Cove community was instrumental. As they say, it takes a village, and the Long Cove village banded together in a big way.
"Beyond the staff, our neighbors were all in," says Sharon. "We even had neighbors offer to let us use their homes or house people! People I didn't even know offered everything. There's a real spirit of generosity at Long Cove; people are super helpful."
As for the newly minted bride and groom, the fun, outdoor wedding they dreamed of couldn't have been more memorable. After tying the knot on the Play Field, they celebrated under a tent on the shoreline before exiting in true Long Cove style: aboard a Nautique boat decorated with romantic fairy lights, courtesy of Tyler Sapp, Long Cove's fabulous marina manager.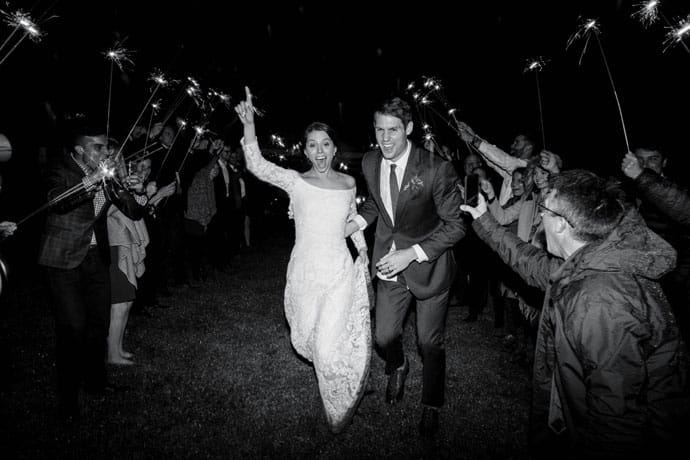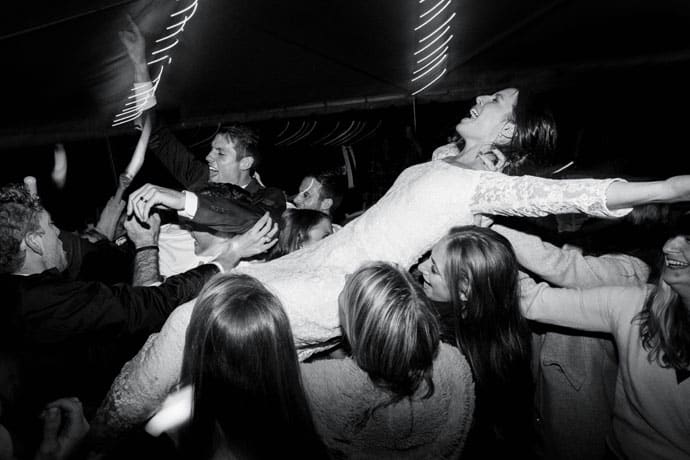 "The vibe was really fun and energetic," says Kirby. "From our rehearsal dinner at the Lake Club to the ceremony, the whole weekend was amazing. We wouldn't have been able to make it happen without Long Cove. It was magical."
For the Mankin family, this Long Cove love story created another unforgettable weekend at the lake yes – and Long Cove is thrilled to have played a part. Best wishes to the bride and groom! We'll see you at the lake.